Kahului, Wailuku, Paia and Spreklesville.

While Kahului/Wailuku is the big "city" go out a bit further towards Waihee and you soon find peace and quiet, still imbued with the old Hawaii flavor.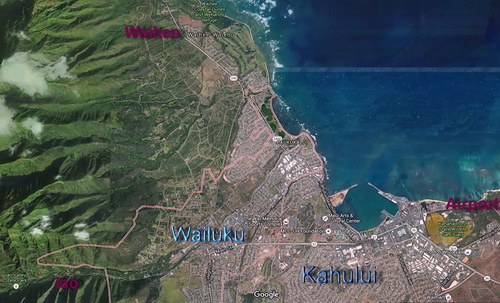 Bed & Breakfast Inns, and Vacation Rentals, on Maui's Central North Shore

Your first experience of Maui will almost certainly be of the airport in Kahului. Then the hustle bustle of renting a car and then dashing off to your accommodations. OK, stop right here. We do understand that after a long trip in getting here, the thought of a shower and a nice room with AC is so very tempting. However, there are some easy to get to treats that will really enhance your first day on Maui... and they are quite close to the airport.

Head over to Kanaha. Just a half mile from the airport, probably less even, is an excellent beach park. So swing out here, hop around in the turquoise waters, yes there are showers here too. Stretch out on the sand, take a walk to Paia (Just kidding. You can, of course, though it is a bit far.) along the usually breezy, wide sandy beach, past Spreckelsville right into Paia town.
Yay right? Gotta feel better now and probably feeling hungry. No matter what foods you are craving, there are a good handful of popular and reasonably priced restaurants on Dairy Road, so there is no excuse for trying to navigate a sometimes traffic filled drive to your destination on an empty stomach. OK, one excuse is if you are heading out through Paia. Just 10 minutes with light traffic, park in the lot just before town and walk around. I'm sure you will find great food a short walk from here.
Kahului and Airport
Kahului <> Wailuku <> Waikapu
Car Rental Tip!
The car rental agencies at the Maui Airport are all on the other side of the big parking lot that is just across from the main terminal. You will find their respective kiosks close to the baggage pickup area and they all provide transport to the car lots. Please! Before you drive off the lot do a couple of things.There's usually plenty of good light to take a "before" and "after" photo of the vehicle, which would prove your innocence should you need to for some reason later on. Cheap insurance! Another thing you can also do is to ask an employee to do a pre-rental inspection which provides for you a list of any existing damage (even the smallest dings, dents and scratches). AND if you can remember when you drop off the car, have someone do another inspection before you go over to the airport. Keep those pics of the car before you drove off, on your phone for a few months. You never know when some employee will make some mistake which ends up putting blame on yourself for something you did not even do. This is not information particularly appropriate to Maui for any reason, it is just good cheap advice which could save you trouble anytime and anywhere you rent a car.
Where to Stay on the big little island of Maui.
If you have a long list of 'wanna-dos', and they are located all around the island, (of course they are!) then make sure you look at the Bed & Breakfast Inns in the Paia/Kahului area. Though there are abundant good reasons to stay in any of the near and far corners of the island, however if your plans include them all then staying centrally located is certainly worth considering. Trying to head out for the East Side of the island from Lahaina and beyond, even early in the morning (remember there are many local people who commute to work), is guaranteed frustration. Paia is fairly well located half way to everywhere and worth considering even if only for this reason.
The Central, North Shore Beaches
Paia <> Spreckelsville < > Kanaha

The ocean on Maui's North Shore is a whole other experience all-together from Maui's South Shore. The Central North Shore Beaches around Kahului are usually under the influence of the Trade Winds and wilder wavy conditions. For Kiters, Wind-surfers, and the more experienced surfers will prefer this area for these more 'high-energy' influences. The beaches along the turquoise milky waters offer many secluded coves backed by Ironwood and Keawe forests.
Open Sunny Beaches & Sugarcane
North Shore Beaches are not just for wind-surfing and dare-devil surfers. A long walk from Kanaha Beach to Paia Bay will reveal a great many secluded sandy coves backed by semi-wild lands around the airport and then you pass in front of occasional, yet beautiful million dollar houses.
Yes it is true that the ocean is much wilder than on the south side, the strong dependable breezes create choppy milky waters which seem much more inviting once you actually take a swim, so go on in. Baby Beach has this excellent, gentle pool for all of us "non-Olympian" swimmers. If you want beaches but the crowded tourist experience is not what you came to Maui for, then check out the north shore.
Iao to Waihee
Jungle Covered Cliffs & Valleys
Iao Valley is a must see listed in every guide book with good reason. A cool, delightful retreat just ten minutes from sweltering Kahului. If you are not a beach nut, then this could reasonably be your immediate destination from the airport. Take a dip in the creek and a stroll through the Ginger, Kukui nut and coffee tree forest.
Excellent Alternative Lodging | Central Maui
Kahului <> Paia <> Wailuku
Bed & Breakfast Rentals
Maui's Central North Shore
Wailuku, Kahului, Paia, Spreklesville

Bed & Breakfast Inn

Location

Town

Phone

Updated November 2017
Wailuku Guest House
210 S. Market St
Wailuku


Mangolani B&B
325 Baldwin Ave
Paia
(808) 579-3000
email
Kahale Makani
303-B Paani Place
Paia
Baby Beach Cottage
207 Kealakai Pl
Paia
Iao Valley Inn
80 Iao Valley Rd.
Wailuku
Maui Beach House B&B
1360 Hiahia St
Wailuku
Sprek's B&B
448 Alakapa Pl
Paia
Hunakai Cottage
290 Paani Pl
Paia
Friendly Beach B&B
581 Stable Rd
Paia
Sprecks Beach Estate
476 Laulea Pl
Paia
Hale Nihi
5 Nihi Pl
Paia
Villa Parthenope
313 Baldwin Ave
Paia
Grom's Hideaway
78 Aleiki Pl
Paia
Paia Red Ginger
258 Kahiko St
Paia
Neil Thompson
676 Hana Hwy
Paia
Mike's House
197 Baldwin Ave
Paia
Kahale Makani
303 B Paani Pl
Paia
Baby Beach Cottage
Kealakai Pl
Paia
Iao Valley Inn
80 Iao Valley Rd
Wailuku
Old Wailuku Inn
(vacation rental)
408 High St
Wailuku
Maui By The Sea
(vacation rental)
523 Hana Hwy
Paia
Vacation Rental Homes
An ideal family option for Alternative Lodging in Paia, Maui.
| | | | |
| --- | --- | --- | --- |
| Vacation Rental Home | Location | Town | Phone |
| Paia Surf | 15 Nalu Pl | Paia | |
| Banyan Cove | 22 Waa Pl | Paia | |
| Paia Place | 95 B Hana Hwy | Paia | |
| Paia House | 30 Kupono St | Paia | |
| Paia Hale | 209 Baldwin Ave | Paia | |
| Beachcomber | 23 Nalu Pl | Paia | |
| Paia Pad | 40 Ae Pl | Paia | |
| Makani Akau | 55 Loio Pl | Paia | |
| Hale Moku | 63 Loio Pl | Paia | |
| Menehune Cottage | 40 Au Pl. | Paia | |
| Paia Bay | 47 Loio Pl | Paia | |
| Paia Paradise Beach | 29 Nalu Pl | Paia | |
| Hale Makai | 134 Aleiki Pl | Paia | |
| Nellies Oceanfront | 127 Hana Hy | Paia | |
| Maui Winds | 60 Lana St | Paia | |
| Hale Ho'okipa Kai | 535 Hana Hy | Paia | |
| Paia Bay Suites | 45 Loio Pl | Paia | |
| Paia Ko | 42 A Puakou Pl | Paia | |
| Banana Leaf | 32 Lae Pl | Paia | |
| Hale Meha | 8 Meha Pl | Paia | |
| Lani Paradise | 528 Hana Hwy | Paia | |
| Gingerbread House | 19 Aolani Pl | Paia | |
| Hale Kuau | 749 Hana Hwy | Paia | |
| Paia Beach Home | 36 Ae Pl | Paia | |
| Kunea Place | 30 Nonohe Pl. | Paia | |
| Nonohe Place | 44 Nonohe Pl | Paia | |
| Beach Cottage | 598 Sprecklesville Beach Rd | Paia | |
| Windsurf Bungalow 20 | 318 Paani Pl | Paia | |
| Banana Plantation | 588 Sprecklesville Beach Rd | Paia | |
| Waiehu Beach House | 202 Lower Waiehu Beach Rd | Wailuku | |
| William Fleischer | 580 Stable Rd | Paia | |
| | | | |