While Kahului/Wailuku is the big "city", its not far to find the peaceful old Maui.
Just west of Wailuku in Iao Park. Around the bend to the north/west is the delightful Waihee. And between kanaha (airport) and Paia is miles of often secluded beaches.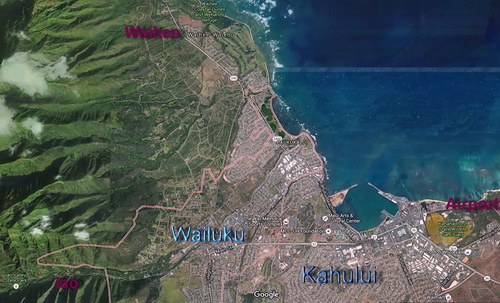 Bed & Breakfast Inns, and Vacation Rentals, on Maui's Central North Shore

Your first experience of Maui will almost certainly be of the airport in Kahului. Then the hustle bustle of renting a car and then dashing off to your accommodations. OK, stop right here. We do understand that after a long trip in getting here, the thought of a shower and a nice room with AC is so very tempting. However, there are some easy to get to treats that will really enhance your first day on Maui... and they are quite close to the airport.

Head over to Kanaha. Just a half mile from the airport, probably less even, is an excellent beach park. So swing out here, hop around in the turquoise waters, yes there are showers here too. Stretch out on the sand, take a walk to Paia (Just kidding. You can, of course, though it is a bit far.) along the usually breezy, wide sandy beach, past Spreckelsville right into Paia town.
Yay right? Gotta feel better now and probably feeling hungry. No matter what foods you are craving, there are a good handful of popular and reasonably priced restaurants on Dairy Road, so there is no excuse for trying to navigate a sometimes traffic filled drive to your destination on an empty stomach. OK, one excuse is if you are heading out through Paia. Just 10 minutes with light traffic, park in the lot just before town and walk around. I'm sure you will find great food a short walk from here.
Ho'okipa & the North Shore Beaches
are "must visit" destinations for all ocean lovers. Paia town area has many popular parks and beaches such as Paia Bay and Baldwin beach, are excellent for family activities. While Paia is a fun little beach town with every kind of shop and restaurant you could hope for, the beaches with the real waves are a bit farther out towards Hana.
A few miles out of Paia, past Ku'au is Ho'okipa. Very popular with locals, Ho'okipa Beach Park is fairly small with difficult to find parking. At least pull over here at the lookout above, beyond the beach. A great viewpoint can be found here, and if the season is right (autumn) you may be treated to some unbelievable waves crashing into the shore.