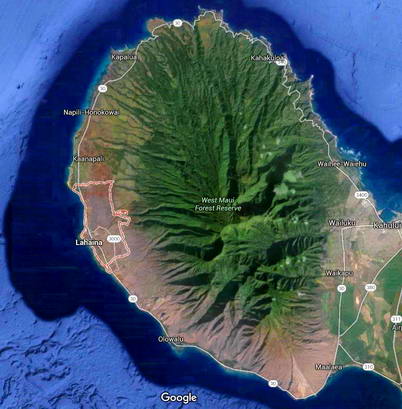 The Ever Popular West Maui
On the South Western side of Maui, with gorgeous views of Molokai and Lanai, is the famous and fabulous historic whaling town of Lahaina. On the drive to the West side of Maui you will be treated to spectacular views of Lanai and Molokai islands not far off the shore. After driving across the 'pali', or ocean-side cliffs with several pull-offs that regularly sport views of breaching Humpback Whales or dolphins.
You then descend into the Oluwalu plain with long beaches, gentle waves and Keawe forest. Choose a beach and take a break! From Oluwalu town, with a little store and French Restaurant, you only have about 7 minutes till Lahaina.
Lahaina is going to take some time to drive through, so if your B&B is in Ka'anapali or beyond, just stay on the main drag through town.
There are some nice little beach parks between Lahaina and Ka'anapali, though certainly not the nicest beaches around this park is at least convenient. Beyond this you drive for some miles through highly manicured, and gorgeous, landscapes through resort area after another on till you get to Kapalua. There are beach roads through this area and, if you are not in a hurry, it is worth the detour if you are also seeking fabulous beaches in which to play.
For those of you who, like myself, get tempted to take the "short cut" on around the north end of the island... Don't! It not only actually takes much longer, but it may also take a few years off your life! Too many people, who live out here, drive BIG trucks much too fast, on a road that is much too often, not wide enough for your car too! While it is true that there are some great hikes out here, as well as many fabulous views, I highly and quite sincerely suggest that you put this area low on your list. There is just so much of Maui to see and experience that you will have to stay here quite awhile, to find yourself bored enough, to justify a drive on this road. Anyway you have been warned.