The Ever Popular West Maui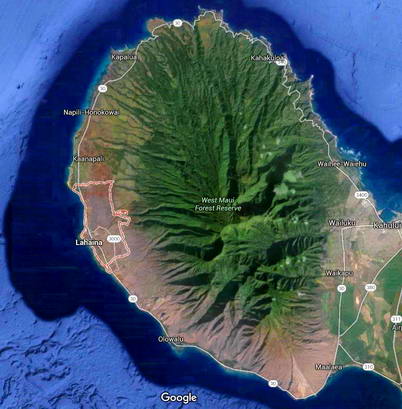 On the South Western side of Maui, with gorgeous views of Molokai and Lanai, is the famous and fabulous historic whaling town of Lahaina. On the drive to the West side of Maui you will be treated to spectacular views of Lanai and Molokai islands not far off the shore. After driving across the 'pali', or ocean-side cliffs with several pull-offs that regularly sport views of breaching Humpback Whales or dolphins.
You then descend into the Oluwalu plain with long beaches, gentle waves and Keawe forest. Choose a beach and take a break! From Oluwalu town, with a little store and French Restaurant, you only have about 7 minutes till Lahaina.
Lahaina is going to take some time to drive through, so if your B&B is in Ka'anapali or beyond, just stay on the main drag through town.
There are some nice little beach parks between Lahaina and Ka'anapali, though certainly not the nicest beaches around this park is at least convenient. Beyond this you drive for some miles through highly manicured, and gorgeous, landscapes through resort area after another on till you get to Kapalua. There are beach roads through this area and, if you are not in a hurry, it is worth the detour if you are also seeking fabulous beaches in which to play.
For those of you who, like myself, get tempted to take the "short cut" on around the north end of the island... Don't! It not only actually takes much longer, but it may also take a few years off your life! Too many people, who live out here, drive BIG trucks much too fast, on a road that is much too often, not wide enough for your car too! While it is true that there are some great hikes out here, as well as many fabulous views, I highly and quite sincerely suggest that you put this area low on your list. There is just so much of Maui to see and experience that you will have to stay here quite awhile, to find yourself bored enough, to justify a drive on this road. Anyway you have been warned.
The West Shore Beaches
Lahaina | Ka'anapali | Kanaha | Honokowai | Kapalua
Ka'anapali, Kanaha and Napili are other small towns in the Lahaina Area. There are resorts all along the coast between Lahaina all the way to Napili. Simply amazing views to be seen especially during sunset which is always breath-taking.
Oluwalu <> Lahaina & Beyond
The beaches in West Maui range from rocky to spectacular. Oluwalu area beaches are popular for a variety of reasons. The location is great in that, if you stay on this side, there are miles of beaches on your way out and then again on the way back. And as you can drive right up to the beach at most of them, it is an easy place to take in another quick swim on your way.
Out beyond Ka'anapali there are many gorgeous soft, white sand beaches, though some of the best are difficult to access as they are in front of a resort. Still, with easy public access, you will find many coves and beaches along the way to Kapalua where Fleming Beach Park is certainly worth a stop.
Maui's Ever Popular West Side
Lahaina <> Kapalua <> Napili
Updated August 2018

Bed & Breakfast Rentals
Maui's Popular West Side



Bed & Breakfast Inn

Address

Town

Phone

Ho'oilo House
138 Awaiku St
Lahaina
Maui Beach
4780 Lower Honoapiilani Rd
Lahaina
Moana Lani
1440 Front St
Lahaina
Old Lahaina House
407 Ilikahi St
Lahaina
Blue Sky Villa
321 Front St
Lahaina
Maui Sandy Beach
409 Front St
Lahaina
Lahaina OceanFront Treasure
1007 Front St
Lahaina
Lahaina Animal Farm
108 S Lauhoe Pl
Lahaina
Kahana Nui Villas
5150 Lower Honoapiilani Rd
Lahaina
Baby Beach Lahaina
35 Kai Pali Pl
Lahaina
Angelia Crim
147 Halelo Str
Lahaina
Alan Berman
682 Kai Hele Ku St
Lahaina
Makila Plantation Home
88 S Lauhoe Pl
Lahaina
Maui Lahaina Garden Oasis
67 Kaniau Rd
Lahaina
A Slice of Heaven
1051 Front St
Lahaina
Alii Hale
1015 Front St
Lahaina
B J Ohana
5157 Lower Honoapiilani Rd
Lahaina
Barrell House
1199 Front St
Lahaina
Baby Beach Hale
21 Kai Pali Pl
Lahaina
Charis House
1579 Lokia St
Lahaina
Chris Smith
106 Halelo St
Lahaina
Hale Alaula
15 Papaua Pl
Lahaina
Hale Amakihi
212 Plantation Club Dr
Lahaina
Hale Evans
16 Holomakani Pl
Lahaina
Hale Kohala
2810 Kolepa Pl
Lahaina
Hale O Ka Honu
20 Papaua Pl
Lahaina
Hekili Point
11485 Honoapiilani Hwy.
Lahaina
Holomakani Retreat
34 Holomakani Pl
Lahaina
Kaanapali Royal
2760 Kolepa Pl
Lahaina
Kahana Beach House
40 Kolepa Pl
Lahaina
Kalapana
15 E Huapala Pl
Lahaina
Kalapu Beach House
161 Kalapu Dr
Lahaina
Lahaina Baby Beach
10 Kai Pali Pl
Lahaina
Lahaina Gate House
451 Ilikahi St
Lahaina
Lahaina Green Villa
328 Front St
Lahaina
Lahaina Historic
208 Lahainaluna Rd
Lahaina
Lahaina Ocean View
5029 Lower Honoapiilani Rd
Lahaina
Lahaina Oceanfront
1423 Front St
Lahaina
Lahaina Palms
36 Kai Pali Pl
Lahaina
Lahaina Pink Villa
1327 Keao St
Lahaina
Lahaina Sun Villa
162 Panaewa St
Lahaina
Makena Aloha
89 Awaiku St
Lahaina
The Maui Home B&B
1143 Front St
Lahaina
Michael McNeill
2827 Kolepa Pl
Lahaina
Napili Hale
5460 L Honoapiilani Hwy
Lahaina
Napili Sunset Hale
5205 L Honoapiilani Hwy
Lahaina
No Ka Oi Hale
29 Kamaka Ci
Lahaina
Opal Seas at Baby Beach
41 Kai Pali Pl
Lahaina
Pacific View
78 N. Lauhoe Pl
Lahaina
Papaua Paradise
43 Papaua Pl
Lahaina
Paradise Miles Away
1206 Summer Rd
Lahaina
Pau'ole Makai
295 Awaiku St.
Lahaina
Princess Hale
1029 Front St
Lahaina
Rainbow Hale Estate
275 Oka Kope St
Lahaina
Restful Retreat
24 S. Lauhoe Pl
Lahaina
Royal Shores B&B
2806 Kolepa Pl
Lahaina
Silversword
622 Silversword Dr
Lahaina
Stephen B. Graham Home
4039 Lower Honoapiilani Rd
Lahaina
Summit Residence at Kaanapali
41 Holomakani Rl
Lahaina
Turtle Beach
1421 Front St
Lahaina
Kevin Williams
520 Lahainaluna Rd
Lahaina
Woodrose Place
112 Woodrose Pl
Lahaina
Wai Ola Vacation Paradise
1565 Kuuipo St
Lahaina


Updated August 2018

Lanai Island | Lanai City


Akahi Place
782 Akahi Pl
Lanai City
Dreams Come True
1168 Lanai Ave
Lanai City
Casa Lanai
942 Queens St
Lanai City
Hale Lokahi
1346 Houston St
Lanai City
Hale O Lanai
255 Nau Pl
Lanai City
Hale Ohana
1344 Fraser Ave
Lanai City
Happy Campers Hale
317 Houston St
Lanai City
John Holland
534 Fraser Ave
Lanai City
Lanai Hale
405 Lanai Ave
Lanai City
Lanai Oasis
524 Fifth St
Lanai City
Mauka Hale
928 Houston St
Lanai City
Nani Street
521 Nani St
Lanai City
The Artist's Hosue
1243 Queens St
Lanai City
The Pink House
1101 Palawai St
Lanai City
Jasmine House
1215 Jasmine Dr
Lanai City
on holiday till 2020

Molokai Island | Kaunakakai


Dunbar Beachfront Cottages
Kamehameha V Hwy
Kaunakakai
Kahakai Hale
10 Hooulu Pl
Kaunakakai
L&M Yuknis
10366 Kamehameha V Hwy
Kaunakakai
Manahele Estate
245 Papapa Pl
Maunaloa
Mother Ocean
2820 Kamehameha V Hwy
Kaunakakai
Papohaku Beach House
2944 Kalua Koi Rd
Maunaloa
Aala Rentals
2708 Kamehameha V Hwy
Kaunakakai
Aloha Ho'okipa
10456 Kamehameha V Hwy
Kaunakakai
Fishpond Cottages
1124 Kamehameha V Hwy
Kaunakakai
Hale Hiamoe
2655 Kamehameha V Hwy
Kaunakakai
Hale O Ke Kai
1136 Kamehameha V Hwy
Kaunakakai
Hale Pu'u Koae
75 Papapa Pl
Maunaloa
Happy House
2180 Kamehameha V Hwy
Kaunakakai
Ho'omaka House
85 Papapa Pl
Maunaloa
Kainehe
8714 Kamehameha V Hwy
Kaunakakai
Kimo Hale
226 Kahinani Pl
Kaunakakai
Kupeke Beach House
9056 Kamehameha V Hwy
Kaunakakai
Lanikai
10464 Kamehameha V Hwy
Kaunakakai
Puko'o Plantation
8780 Kamehameha V Hwy
Kaunakakai
Villas at Puko'o
8844 Kamehameha V Hwy
Kaunakakai
Hale Kainalu (Closed)
9650 Kamehameha V Hwy
Kaunakakai