Maui perfectly fits most people's idea of Paradise. Sunny beaches. Tropical forests. Flowers and waterfalls. Mountains and waves. The land of Aloha. Maui.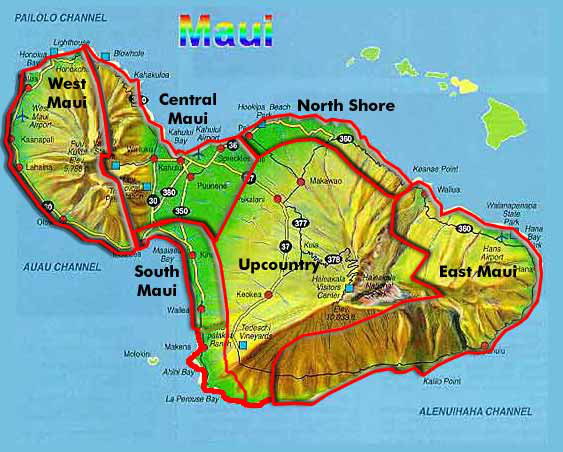 Bed & Breakfast Inns, and Vacation Rentals, on Maui's North Shore
are one of the best options when it comes to a relaxing and memorable vacation experience. This Maui B&B Guide is the best place to find a fully licensed, trust-worthy Inn that you can be assured will provide you the very best accommodations for your vacation.
Ho'okipa & the North Shore Beaches
are "must visit" destinations for all ocean lovers. Paia town area has many popular parks and beaches such as Paia Bay and Baldwin beach, are excellent for family activities. While Paia is a fun little beach town with every kind of shop and restaurant you could hope for, the beaches with the real waves are a bit farther out towards Hana.
A few miles out of Paia, past Ku'au is Ho'okipa. Very popular with locals, Ho'okipa Beach Park is fairly small with difficult to find parking. At least pull over here at the lookout above, beyond the beach. A great viewpoint can be found here, and if the season is right (autumn) you may be treated to some unbelievable waves crashing into the shore.
If you are looking for "Jaws" please take note that the road down to the coast, at that point, is not accessible with your rental car. It is a long and usually hot (or quite wet) hike out there. AND, again please note, once you get there the views are not really all that fabulous (all things considered) as the monsters are just too far out there to see well. The best views you will find of the Big Waves, that you can get to easily anyway, is found at Ho'okipa. However, if you don't believe me, you can always hit this park on the way back... assuming you don't go all the way around (a temptation you will find hard to resist once you get to the end of the paved road out past Kipahulu). So stop on the way out, take a couple of minutes break, and enjoy gazing at the Pacific for awhile. From here you leave the beaches and sugarcane moving up into the pineapple and jungle lands of Haiku, Pauwela and eventually Huelo. If you love jungle and a bit of rain does not annoy you, then you will likely find this area of Maui to be just what you are looking for. There are few days that rain does not fall in this area and it creates a fresh, super-alive atmosphere of lush green growth.