Maui perfectly fits most people's idea of Paradise. Sunny beaches. Tropical forests. Flowers and waterfalls. Mountains and waves. The land of Aloha. Maui.

Bed & Breakfast Inns, and Vacation Rentals, on Maui's North Coast...
are one of the best options when it comes to a relaxing and memorable vacation experience. This Maui B&B Guide is the best place to find a fully licensed, trust-worthy Inn that you can be assured will provide you the very best accommodations for your vacation.
Without doubt the biggest of the humongous waves happen out at "Jaws"; still you really should take note that the road down to the coast, near Jaws, is not accessible with your rental car. It is a long and usually hot (or quite wet) hike out there. AND, again please note, once you get there the views are not really all that fabulous (all things considered) as the monsters are just too far out there to see well. The best views you will find of the Big Waves, that you can get to easily anyway, is found at Ho'okipa. However, if you don't believe me, you can always hit this park on the way back... assuming you don't go all the way around (a temptation you will find hard to resist once you get to the end of the paved road out past Kipahulu). So stop in Ho'okipa on the way out, take a couple of minutes break, and enjoy gazing at the Pacific for awhile. From here you leave the beaches and sugarcane moving up into the pineapple and jungle lands of Haiku, Pauwela and eventually Huelo. If you love jungle, and a bit of rain does not annoy you, then you will likely find this area of Maui to be just what you are looking for. There are few days that rain does not fall in this area and it creates a fresh, super-alive atmosphere of lush green growth.
Maui's Fabulous North Coast Region
Haiku < > Pauwela < > Huelo
Photo Gallery

Maui's North Shore World famous waves. Pineapple. Lush, steamy jungles!
While the waves that come roaring in to the rugged cliffs on Maui's North Coast are well known, this area is also a wet, tropical jungle with acres of pineapples all dotted with residential homes and quite a few Bed & Breakfast Inns. If you love the wet jungle then this side of Maui may well be the best place to relax and explore, while still only 30 minutes or so from downtown Kahului.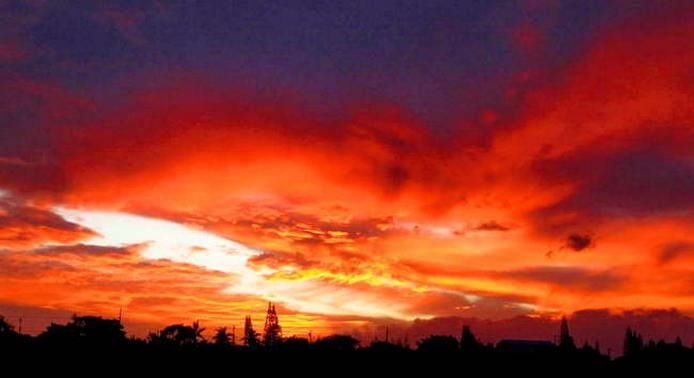 Great Vacation Rentals on Maui's North Shore
Pauwela <> Haiku <> Huelo
Bed & Breakfast Rentals
Maui's Impressive North Shore
Haiku, Pauwela, Huelo
and along the Hana Hwy
---
Updated August 2018

Bed & Breakfast Inn

Address

Town

Phone

Maui Ocean Breezes
240 Holokai Rd
Haiku
Bamboo Valley B&B
144 W Kuiaha Rd
Haiku
Haiku Anuenue
540 Kaiapa Pl
Haiku
Haiku Plantation Inn
555 Haiku Rd.
Haiku
Haiku Surf Cottage
774 Kihau Pl
Haiku
Hale Kokomo
2719 Kokomo Rd.
Haiku
Hale Mauka Makai
279 Pauwela Rd
Haiku
Ho'okipa Bayview Cottage
1250 Kauikoa Rd
Haiku
Huelo Point Lookout
222 Door of Faith Rd
Huelo
Maui Trade Winds
4320 Une Pl
Haiku
Haiku Makai
266 N Holokai Rd
Haiku
Lilikoi Lani Farm
2456 Kaupakalua Rd.
Haiku
Maui Adventure Villa
190 Kaokoa Way
Haiku
Pilialoha Cottage
2512 Kaupakalua Rd.
Haiku
Maui Chalet
45 Waipio Rd
Haiku
Hale Pola'i
75 Piialii St
Haiku
Sacred Garden Retreat (TVR)
470 Kaluanui Rd
Haiku
Pali Uli Gardens
150 Door of Faith Rd
Haiku
Bamboo Heaven Maui
707 Kauhikoa Rd.
Haiku
Door of Faith
150 Door of Faith Rd.
Haiku
Dragonfly Cottage
1075 Nanihoku Pl
Haiku
Haiku Guesthouse
905 Kokomo Rd
Haiku
Hale Hiluhilu
910 E Kuiaha Rd
Haiku
Hale Roselani
3232 Luahine Pl
Haiku
Ho'okipa Hideaway
1765 Haiku Rd.
Haiku
HoloMakai
165 N. Holokai Rd.
Haiku
Kili Studio
865 Kili Pl
Haiku
Haiku Garden Cottage
1089 Nanihoku Pl
Haiku
Hale Leialoha B&B
1539 Hog Back Rd
Haiku
Ho'okipa Rose
285 Pauwela Rd
Haiku
Iolani Cottage B&B
160 Piialii Place
Haiku
Kahua O Mali'o
610 Huelo Rd
Huelo
Little Piece of Paradise
1055 Upper Ulumalu Rd.
Haiku
Lucy Fan Ohana
44 Kahope Pl
Haiku
Mana Aina Vacations
595 E. Kuiaha Rd.
Haiku
Maile Bungalow
2582 Alohia Pl
Haiku
North Shore Ocean View
214 Kaokoa Way
Haiku
Pineapple Cottage
1340 Kauhikoa Rd.
Haiku
The Art Estate
25 Oluolumau Pl
Haiku
Ualani Farm B&B
698 Kaupakalua Rd
Haiku
Villa Maui
1821 Haiku Rd.
Haiku
Kulike
380 Kulike Rd
Haiku
Haiku Nani
1640 W Kuiaha Rd
Haiku
Pililani
110 Kane Rd
Haiku
Leilani
2590 Alohia Pl
Haiku
Pinnacle Inn
2356 Umi Pl
Haiku
Haiku Malu Estate
1555 W Kuiaha Rd
Haiku
Kiralani
2344 Umi Pl
Haiku
Hale Mali'o
2550 Kaupakalua Rd
Haiku
Hale Aka'ula
311 Waiama
Haiku
Seaview
295 Waiama Way
Haiku
Hunter Hale
24 Hunter Lane
Haiku
Ho'olawa
565 Hoolawa Rd
Haiku
Haiku Maui Cottage
765 Haiku Rd
Haiku
Vintage Voyager
10 Koikoi Pl
Haiku