Wherever you stay, wherever you go, transportation is always a concern. Although most visitors rent a car, which is usually a fine idea, this is not your only choice. While hitch-hiking is sort of - but not really - tolerated, there is also the wonderful island-wide bus system. Besides actually getting you someplace for nearly nothing, how often during this vacation will you actually have a local to really chat with for awhile?
PARKING & MAUI BUS, deserve a shout here.
For Lahaina, getting around downtown can be a nightmare. If you have an extra hour you may wish to take a drive down Front Street. Am I exaggerating? I hope so, but maybe not. In summary my message for Lahaina is plan ahead. If you are coming from other parts of the island, like I usually do, if it is early or late or off-season, you could try your luck right downtown on Prison and Front Streets. If this is full, or it is not during one of the times mentioned above, then plan to park in the free public parking lot at 750 Luakini St. in Lahaina. Of course, this may well be full too so make sure you know where a "plan B" parking lot is. My plan B lot is all the way through town - to get there its best to stay on the main road (No! Not Front St.! The Hwy, such as it is, may be slow but it is still the best way through town and worth driving back up prison st. to get on this downtown by-pass) until you see the Cannery and Safeway on the left (ocean-side) at Kapunakea St. Even on Halloween I find parking out here.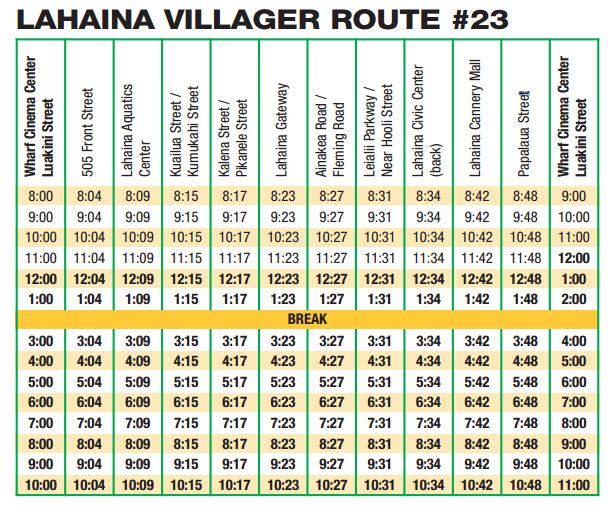 If you are coming from Ka'anapali and towns further west, this parking lot at the Cannery is probably your best bet too. But if you do park here it is a bit of a long stroll to get all the way to the Banyan Tree. There is a local bus making the trip downtown every hour, so if you arrive at the ideal time, you can hop on the bus in front of the Safeway and take it down to Papalaua St. which is the beginning of the shops on Front St. Or possibly you may want to stay on the bus until you arrive at the other end of the ride behind the Wharf Cinema Center (Hale and Luakini Streets) which is just a block from the Banyan Tree. Maui Bus phone number is (808) 871-4838 and the in-town bus service is "Lahaina villager route #23". The cost is $2/person.
Here is the schedule and map of the route: